These are the testimonies of some of the wonderful guests that shared their lives with us on board Rio. Their stories have empowered and inspired us to transform even more people around the planet as we sail to Bimini from Florida and the Bahamas to the Caribbean.
Click NOW to book your sailing adventure.
Jose and Alex
are wonderful people and my wife and I will forever remember our trip to Bimini with them. We went for a long weekend but could easily have spent more time with both them and the beautiful location. Communication with Jose was always prompt and clear.
Getting to the boat was only a 15 minute ride from the airport. From their spacious sailboat to the wonderful and healthy food, everything was top notch. We can't wait to visit again.
Ryan and Melissa, you guys are was so amazing, I am so happy that we had such great weather mama And you had the opportunity also to sail Rio.  Thank you very much for the review, and for your friendship. Until we see you again, I wish you both the very best.
Namaste Jose
---
---
---
Samuel Young and his family
Doris, Serena, Norden, Samuel. November 2016
Below was written by my 10 year old daughter Serena, no one word was changed by us, thus reflected a real feeling came from a child's view: "Oh the seas! This was best experience with my family I ever had on the ocean! You might imagine a luxurious time on the sea, as soft, felt covered blankets in your cabin, amazing hosts, and singing and dancing on the ship deck. Then your dream came true, only a 100 times better! Our hosts Jose and Alex are the Best! My brother and I had such great time with them, making foods, picking flowers with Alex, and having wisdom chats with Jose. Our whole family was in so much awe, when we ate the fresh, all homemade, raw food.
It was DELICIOUS! We learned so much about the healthy eating life style, on our trip over the seas! So if you haven't already, I encourage you to experience this relaxing, learning, magnificent, trip on the Wellness on the Sea."
-Serena Young
---
---
---
---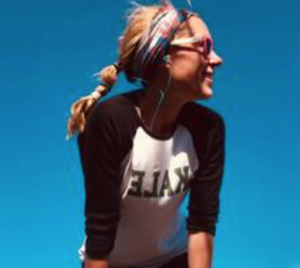 The Rio was an unbelievable experience! An absolutely gorgeous boat located on a beautiful waterway. I remember waking up in such a state of peacefulness and appreciating the beautiful still water reflecting the sky and other boats like a mirror. It was as though we were living inside a painting. We walked to Il Forno for morning coffee and then returned to sit on the deck and just take in the beautiful scenery. As far as hosting goes, Jose is unbelievably hospitable, warm, welcoming and communicative. I had accidentally flubbed the dates of the stay and Jose was totally understanding and accommodating. He was beyond hospitable! Just beyond. The boat is also immaculately clean, well-cared for and stylish. The location is excellent – close to Las Olas and yet quiet on the canal at night – plus there is free street parking nearby. What an incredible value – such a unique and wonderful gift to spend a night on the Rio!!
---
Our trip to Rio was nothing short of amazing. From the time we arrived Jose and Alex made sure we were safe and comfortable! Our every need was taken care of. The sailboat is beautiful, spacious, immaculate and most importantly Jose and Alex are at the helm of this beautiful vessel.
The meals served were delectable plant-based meals that were presented as if we were dining in a five-star establishment. Not being a vegan I didn't know what to expect but was beyond pleasantly surprised. The meals were delectable and presented as they would in a 5-star establishment. We were never left hungry.
We took the option to sail to Bimini for several days, and it is an experience NOT to be missed. We snorkeled off a shipwreck and floated on rafts all of which were provided. The island is small, authentic Bohemian and unspoiled. Jose and Alex knew exactly where to go, and we were lucky enough to have them join us.
We started on this journey as strangers, and have ended up lifelong friends. Jose wisdom, knowledge of his sailboat, coaching tips for health and his life story is certainly one you won't' forget. We love you Jose and Alex, and thanks for making this a vacation we will never forget. xo
---
Lauren and Brittany
August 2017
Our stay with Jose and Alex was nothing short of amazing. A girlfriend and I decided to book a last minute trip to Ft. Lauderdale and planned to spend 2 nights on the boat with one day of sailing. I have to say that finding Rio, Jose, and Alex was such a stroke of luck.
My only regret is that we didn't have more time to sail to the islands. The boat was beautiful, very clean and comfortable to stay on. Our day of sailing was one of the best days I've experienced in a while. We had perfect weather, were able to see and swim in clear blue water and even saw a pack of dolphins and a sea turtle. Our sunset dinner was unreal. The meals that Jose and Alex prepared were unbelievable.
Everything was so fresh and beautifully presented. I'm still dreaming about the tofu stir fry and the kimchi. And that chocolate bark! It has really given me a new outlook on foods and a desire to eat fresher and cleaner (and reduced meats) 🙂 Upon our arrival, Jose and Alex were so kind to recommend wonderful restaurants and bars for us and even drove us into town each night to drop us off.
This will be a trip that I will always remember and I cannot wait for another opportunity to come back to Rio. Thank you again, Jose and Alex!!! – Lauren and Brittany
 Click NOW to book your sailing adventure.
---
---
If you want the perfect vacation that transports you to another world; then this is the spot for you. Jose and Alex are phenomenal hosts; making sure at every moment we are all comfortable while still minding the sails. The food was incredible! Freshly made juices, salads, even Thai style vegetarian dishes that pack so much flavor you didn't know existed in vegetarian cooking. Sailing across the Gulf Stream is something everyone should do once in their life – or a few times if you can manage.
Experiencing the wind at your side while taking in the vastness of the ocean is something that you cannot get just sailing around a harbor or on some tour boat. This is the true experience of sailing and the freedom that comes with it. Don't look any further; if you are interested in beautiful Azul colored waters, multitudes of marine life and outstanding sunsets/rises than you found just the listing. Sit back relax and enjoy the sun, sails, and wind at your back.
Response from Jose – June 2017
My dear Christi, Reading these words bring me a feeling of joy, I am truly grateful that you and your guests had the courage to say "yes" and have the trust to leave the safety of land behind and navigated through the night to a distant shore across the Gulfstream and the Florida Straits.
You are truly awesome! I cannot believe how much these quotes describe you! This particular one is one, by Charles Cook, reminds me of you. "Until you have the courage to lose sight of the shore, you will not know the terror of being forever lost at sea."
I believe life without courage and integrity is a life filled with emptiness! I've come to realize that you were composed of those two essential living meaning to life. Some of the best quotes I can find in my mind's eye, to truly describe the feeling I have every time I set sail, are these…
"The fishermen know that the sea is dangerous and the storm terrible, but they have never found these dangers sufficient reason for remaining ashore." — Vincent Van Gogh, Painter "It is not that life ashore is distasteful to me. But life at sea is better." — Sir Francis Drake, Sea Captain. You are all very welcome back on board Rio any day!!
 Book your sailing adventure.
Thank you so much for your kind words and for most of all, your courage, your love and your understanding. Until we see each other again, happy sailing and safe journeys to all of you. Namaste, Jose
---
Prit 2017
Staying on yacht Rio was supreme. The hospitality of Jose and Alexandra was just amazing, right from the beginning when Jose picked us up at the airport just moments after our arrival. The food they prepared for us was very tasty, fresh and healthy, so we can confidently say: "Rio, the Michelin star restaurant at sea." Swimming with dolphins, diving, snorkeling, and seeing various sea life like sharks, rays, turtles and so on – it was just superb. Sailing in the Bimini islands' waters – another mega experience. Jose also showed us around the Everglades National Park and the city of Fort Lauderdale. He's better at it than a professional tour guide.
Rio & Wellness On the Sea with Jose and Alexandra deserve more stars than any resort on the shore. We are all very happy that we got acquainted with such special people like Jose and Alexandra. They made sailing the Bahamas our best holiday ever. We take a deep bow of respect and thank you very much from Estonia and Germany.
Best regards, Marek, Priit, Errki and Axel
---
Our trip on Rio was an extraordinary experience that was more than I could ever have imagined. My girlfriend and I spent 4 nights on Rio while sailing the Bahamas – which was breathtaking. Jose, Alex, and Alberto became more than hosts and treated us as friends – constantly sharing their inspiration and wellness advice. We had so many great adventures and meals at sea that we will never forget.
She jumped into the water and actually had the confidence to swim and snorkel with the support and patience of everyone! We also learned so much about healthy eating, and how to make changes in our diet that will have immensely positive effects on our health. All of the meals that Jose and Alex prepared were delicious…we felt an improvement in our health afterward and are excited to continue this healthy lifestyle. Rio was a very comfortable sailboat and we learned so much about sailing and boat maintenance.
We left truly inspired and with the feeling that's we had gained new friendships that we will always value!
Book your sailing adventure.
---
We weren't sure at first what we were getting into when booking this trip but after reading other reviews we decided to book. And we were glad we did! Jose and Alex were amazing as was our whole experience.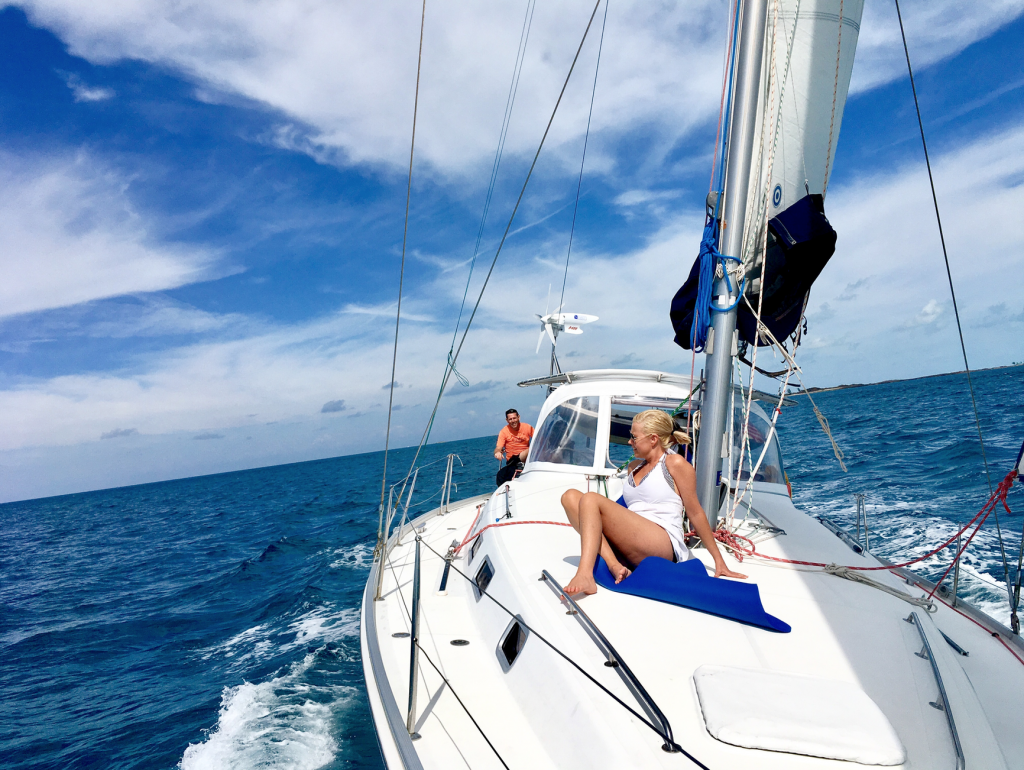 We sailed to Bimini on our first night there. This was our first time sailing and sailing under the moon and stars was gorgeous. While at Bimini we enjoyed the beach and the Bimini culture and food. Bimini was a quaint, friendly island and Jose and Alex were great fun showing us around. We had some rough weather on our way back but felt safe knowing what an experienced captain we had. Jose is also a wonderful chef and made delicious meals.
My husband and I now consider Jose and Alex friends and continue to have fond memories of our trip.
---
Leonardo and Marcelo 2016

LA MEJOR ETADIA DE MI VIDA!!!!!!!
JOSE ES GENIAL, NOS AYUDO CON LOS TRASLADOS, LLEGAMOS MAS TARDE Y ESTABA AL FIRME, EL VELERO ES ESCEPCIONAL, GRANDE LIMPIO Y CON TODAS LAS COMODIDADES, LO NAVEGAMOS HASTA BAHAMAS CON JOSE Y ALBERTO, EXCEPCIONALES PERSONAS DE LAS QUE SE AGRADECE A DIOS POR HABERLAS CONOCIDOS. MEJOR IMPOSIBLE INFINITAS GRACIAS A TI Y ALBERTO, LO MEJOR PARA USTEDES Y EL RIO!!!!!!!!!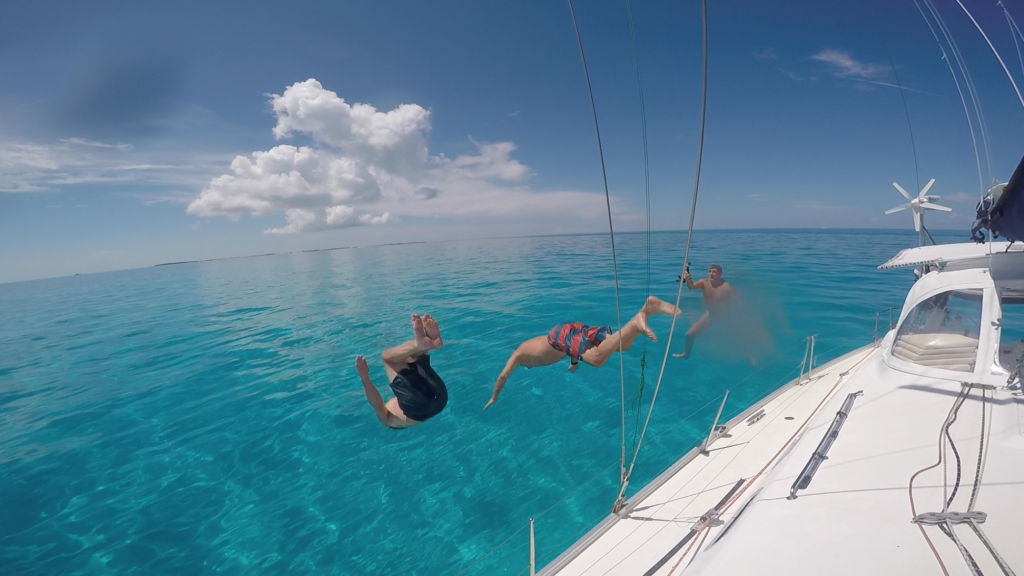 ---
This was definitely a once in a lifetime experience. We had originally wanted to sail with Jose to the Bahamas but very strong winds prevented us. Jose instead gave us a land program and a day of sailing instead.
His program gave our entire family exceptionally healthy food that helped us to lose weight and feel fabulous. I believe that we met lifelong friends and will always cherish the experience. Even if you don't do the program and just stay on the boat, it is a magical place to stay and sleep as you are rocked in this "cradle"
The location is a prime one between the beach and some very trendy shops on Los Olas Blvd. The bathrooms on the boat are a unique experience and are in accordance with a sailboat.
---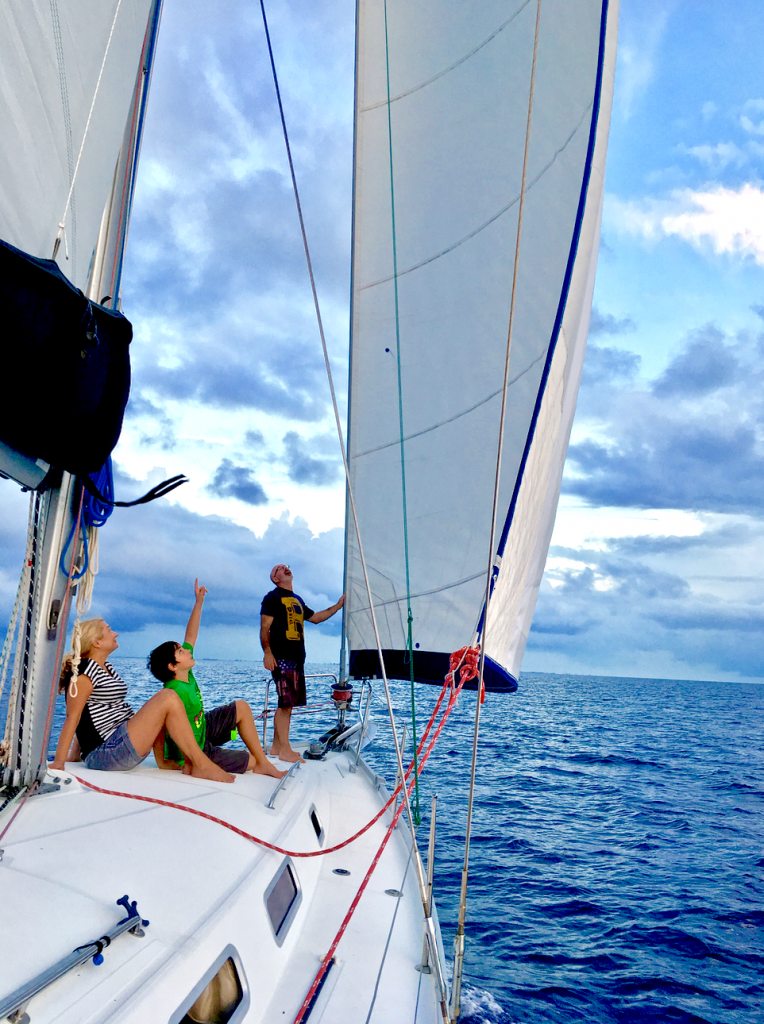 Staying on board of Rio and Sailing to the Bahamas was the best adventure my family ever had. Alexandra and Jose have gone beyond and above to make our stay on board of Rio very comfortable. We have learned so much about sailing, and especially about wellness and healthy food. But let me list few specific that could help future travelers: -Staying on board of Rio was very comfortable. She is beautiful sailboat! -Sailing from Florida to the Bahamas was the best adventure of our life.
-While at Bahamas Alexandra and Jose have shared with us local secrets, beautiful beaches, and fantastic local food. -Food on board of Rio was out of this world. We have enjoyed raw organic food more than we would ever imagine. Jose is not just a great chef, he is an artist!!! Every item was prepared with love and so much passion that we are left speechless. On this trip, we have felt in love with sailing, with Rio, with the Bahamas, and learned so much about Wellness and health for life but above all, we have made new friends. Alexandra and Jose thank you for everything.
---
Rodrigo
September 2017
What an amazing adventure. If you are looking to meet new people and experience, this is a lifetime opportunity. Jose and Alex was nothing but a phenomenal host.
After you come, you will understand better what I mean by phenomenal! I recommend book them if you are not in a hush and have strict deadlines because mother nature will dictate what you are going to do it. But don't worry, raining or sunny they will make sure you have a wonderful time in Fort Lauderdale. Raw food was a Michelin star level. A glass of wine, at the end of the day, was a cherry on top of the sundae. But at the end is all about the company, and that is the highest value of the package. Thank you so much for this amazing experience.
---
We had such a special time with Jose and Alexandra. Two days of eating healthy, delicious food and living on a beautiful sailboat – what more could you ask for? Each room had a queen size bed and a bathroom – of course it's tight space because it's a boat, but we were very comfortable. There's also a regular bathroom with a toilet on the dock that you can use which is great. We also went sailing and swimming for a day which was really fun. And Jose prepared amazingly delicious and super healthy food – it felt like staying at an exclusive health resort! Jose is very passionate about health and wellness and sharing his knowledge, so you should definitely be open to learning and listening. Overall, highly recommend Wellness on the Sea and hope to return soon!
Response from Jose:
Thank you SO MUCH Hannah, Your kind and generous words have touched my heart, and the heart of Rio. I know one day you will come on board RIO once more, this time for a longer journey. I welcome you and your beautiful friends anytime to sail with us… you're all very special! Jose