S.V. Rio and Wellness On The Sea is a one-of-a-kind, whole food, plant-based sailing experience.


Our programs offer a unique culinary and sailing experience, sailing to Bimini from Florida, and some of the most exotic islands in the Bahamas, the Caribbean and Fort Lauderdale while enjoying a great selection of plant-based menus. Our goal is to share simple steps you to have a healthy life style, designed to transform your mind and body into balance.
If you are looking for the perfect Bahamas sailing vacation charter with your own private chef? for yourself or 3 of your friends, that offers you the best of both worlds. A Whole-food plant-based raw or vegetarian meal with a twist menu, that is catered to you specific needs, you come to the right place.
Ask us for our Family and friends programs… call email us 850-408-1460 jose@wellnessonthesea.com to find out more info on our most popular 4 or 5-day Bahama destinations.
Your sailing charter includes all your meals  (appetizer, soop or salad, entrees desert, and drinks) plus our one-year wellness coaching. plus more. call us to prepare your next sailing adventure. 850-408-1460 or email us at jose@wellnessonthesea.com
In your email, please include your full name, how many people in your party, what their age is, the approximately every individual traveling with you, this is so we can I sure that our life preservers will fit correctly, and a phone number and your location.
All our sailing adventures include a plant-based diet that comes from some of the finest organic fruit and vegetable growers in South Florida and around the world. We guarantee that you will be eating exquisite and delicious food from rainbow colors and a large spectrum of nutrients while sailing.
For the ultimate in freshness, instead of purchased canned foods, some of our meals are prepared at home and packaged in glass mason jars, the day before we depart. All meals are prepared onboard by our raw vegan, vegetarian chef and captain José Marcucci, using fresh, organic, and non-GMO ingredients.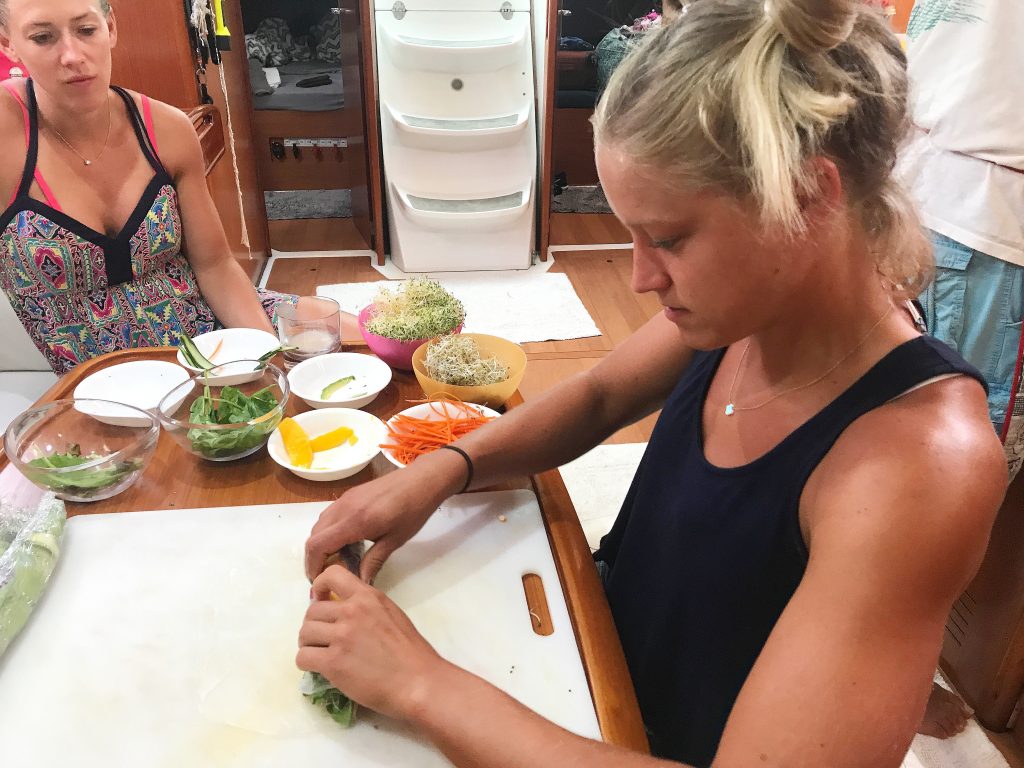 As he added bonus you can participate in the coaching program and help prepare some of the meals we have on board. An introduction to healthy eating habits, along with numerous wellness tips and trusted recipes, is also shared on-board.
Our adventure begins in Fort Lauderdale.  Rio departs from a private dock, motoring through the canals and crossing 2 bridges before reaching the ocean.
The Greater Fort Lauderdale area contains more than 300 miles of canals that weave through the area, earning its nickname, the Venice of America. The canals sport their own South Florida flair with a mix of romance and grandeur.
The Bahamas
The Bahamas is a coral-based archipelago in the Atlantic Ocean.
Its 700-plus islands and cays range from uninhabited to packed with resorts. The northernmost, Grand Bahama, and Paradise Island, home to many large-scale hotels, are among the best known. Scuba diving and snorkeling sites include the massive Andros Barrier Reef, Thunderball Grotto (used in James Bond films) and the black-coral gardens off Bimini.
The Caribbean
The Caribbean is a region that consists of the Caribbean Sea, its islands, and the surrounding coasts. The region is southeast of the Gulf of Mexico and the North American mainland, east of Central America, and north of South America.
Behold the Fort Lauderdale breathtaking a sunset while relishing a lovely dinner with a bottle of wine. Departing 3 hours before sunset, we will make our way through the canals, passing by the beautiful houses in the area.
We sail 2 to 3 miles out to sea and, weather permitting, we can stop for a swim in the ocean before dinner.  We sail back as the sun sets behind the most amazing skyline of South Florida.
2-    Wellness On The Sea 1-day Cruise along Fort Lauderdale
A full day wellness sailing program, that will open a window for you to see and experience an insight into a unique lifestyle that will bring years of healthy living for you and your family. We sail for 10 hours through Fort Lauderdale and provide all meals throughout the journey.
You will have the opportunity to take the wheel and sail RIO our vessel, learn the basics of sailing and navigation. We will also teach you how to prepare some of our plant-based recipes.
4-    Wellness On The Sea 4-day Cruise to Bimini Island in The Bahamas
Bimini is the westernmost most point of the Bahamas bank and comprises a chain of islands located about 80 kilometers due east of Miami. According to national geographic, it has the biggest spectrum of blue water in the world, and the clarity is like no other seen anywhere on the planet.
This is a perfect way to life transformation vacation, to progressively understand and learn about a healthier lifestyle, for you and your family.  While exploring the island of Bimini, Jose and Alex will share numerous life coaching concepts, recipes, and tips that will make this unique life-changing experience a success.
This program also includes 6 months of at home personal coaching sessions by our plant-based chef/captain and Certified Wellness Coach, Jose. (via Skype, by phone over video conference call or in person) we will provide you with a basic nutritional introduction program, that will encompass, nutritional coaching suggestions and nutraceutical alternatives for you and your family.
3-    Wellness On The Sea 10+ days Cruise to The Abacos
An ideal plan for 10+ days, sailing to the Bahamas and then island hopping in The Abacos. Calm waters, warm breezes, and panoramic beauty make this 120-mile–long chain of islands a sailing paradise. Explore the intimate connection between mind, body, and soul through healthy eating, yoga, and, meditation in a picturesque natural environment.
This program includes 12 months of at home personal coaching sessions by our plant-based chef/captain and Certified Wellness Coach, Jose. (via Skype, by phone over video conference call or in person) we will provide you with complete pantry makeover, a comprehensive nutritional coaching program giving you the tools to transform your home and life.
Sunrise Yoga, we invite you to come and shift your perspective and experience a sunrise of deep relief.
This yoga class includes a 75-minute hatha vinyasa yoga practice, education, and a Q & A with our presenters. You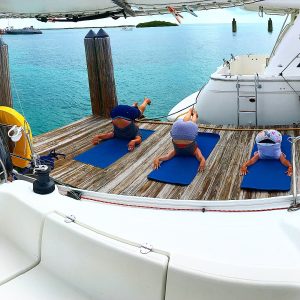 will learn about natural alternatives to stress relief and practical knowledge on how to optimize your health and performance capacity. If you lead a stressful life, this practice is for you. Jose Martucci will provide you with a very comprehensive nutritional program, that will encompass, nutritional coaching suggestions and nutraceutical alternatives for you and your family.
This is good for anyone that wants to improve their health and wellness and perhaps losing weight, or increase their holistic knowledge.